Our Company
Growing Demand, Growing Opportunity.
Our Story
Endeavor Energy is a leading independent power company focused on developing, acquiring, financing, constructing, owning, and operating power generation projects in Africa. Endeavor has catalyzed more than $1.6 billion of investment, with nearly 700 MW in three power generation projects under construction or in operation, and with another $4.4 billion of power generation projects under development. We have extensive experience developing integrated fuel-to-power projects in Africa, including LNG-to-power projects, and are currently constructing what will be the largest LPG-to-power project in the world.
Important to our foundation of success is our willingness to take development risks, invest development capital, and invest the majority of equity capital required at financial close. Endeavor focuses on mid-to-late stage power generation opportunities in Africa.
With over 200 years of combined experience, Endeavor Energy's leadership team has a deep understanding—from technical, commercial, and financial perspectives—of what it takes to succeed in Africa. Endeavor's professional team has commercial and technical experience in over 20 African countries and speaks over 10 languages including English, French, Spanish, and Arabic.
Endeavor Energy is headquartered in Houston, Texas, and has offices in Abidjan (Côte d'Ivoire), Accra (Ghana), Conakry (Guinea), and Dubai (UAE).
2013/2014
Initial Commitment and Launch of Endeavor Energy. Development Activities in Ghana and Guinea.
2016
Twin City Energy in Ghana reaches Financial Close and starts construction.
2017
Te Power Project in Guinea reaches Financial Close and starts construction.
2018
Bridge Power Stage 1 in Ghana reaches Financial Close and starts construction.
2020
Twin City Energy, Te Power Project, and Bridge Power Stage 1 complete construction and begin commercial operations.
Beyond
Continued development of Bridge Power Stage 2. Development of other expansion projects and new greenfield opportunities.
We look for strong long-term sector fundamentals, such as a growing economy and significant demand for energy services
Enhanced "Credit Quality" Cashflow
We work to design our projects with fundamental and structural protections to protect our investors and ensure sustainable operations
Low Volatility/
Contractual Revenues
We seek to develop projects with contractually pre-determined revenues over the life of the contract, and aim to limit the exposure of our businesses to macroeconomic cycles
We seek to use proven technology for our projects to ensure reliability for our host markets and off-takers
Appropriate Risk Allocation
Strong Project Finance fundamentals are critical for us and our lenders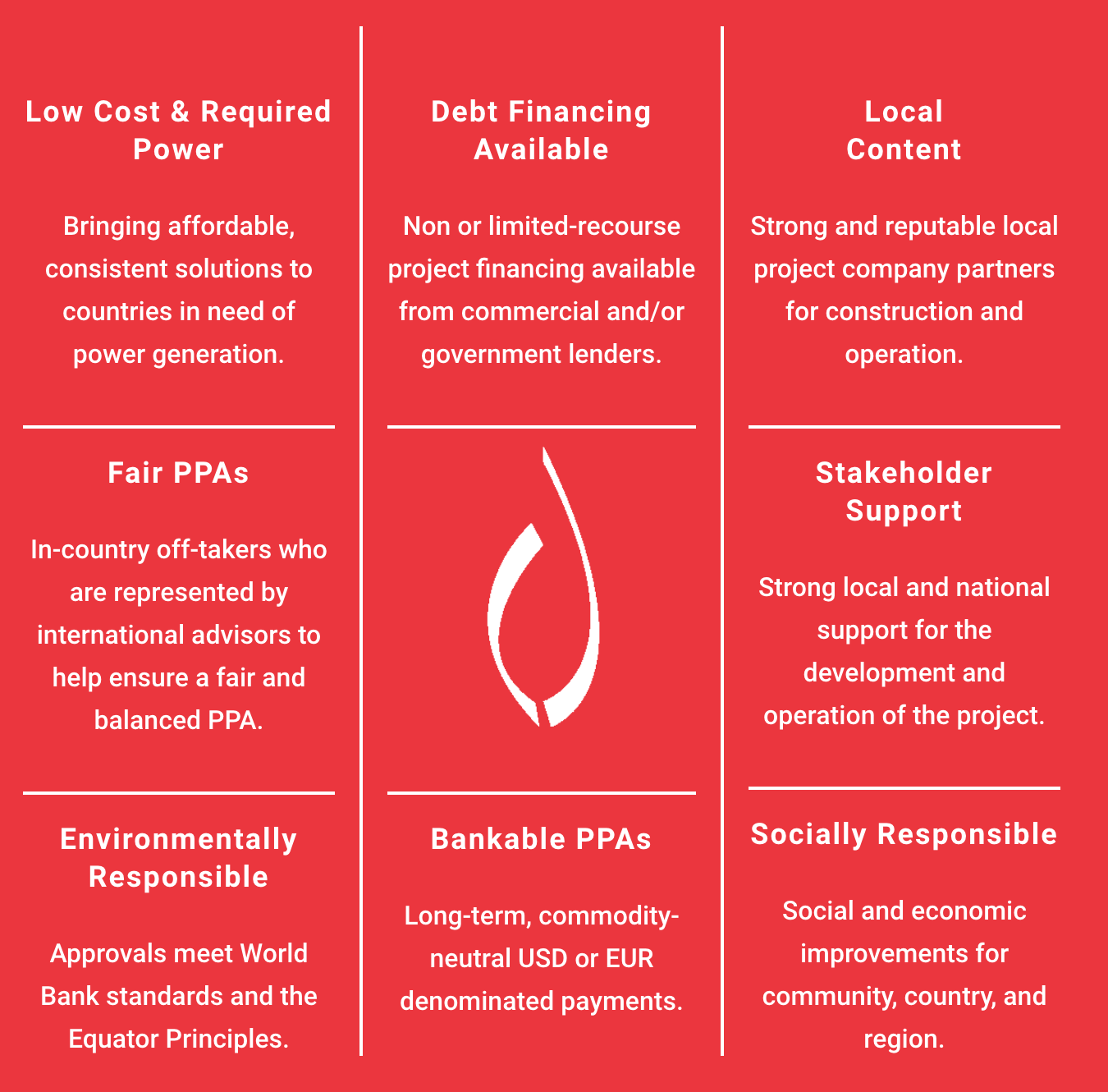 Development Criteria
Aliquam eget lorem ut dui commodo accumsan viverra vitae ligula. Aenean finibus fringilla ante quis gravida. Fusce neque dolor, convallis vitae ipsum vel, viverra vestibulum justo. Maecenas elementum urna felis, sit amet gravida urna varius et. Pellentesque habitant morbi tristique senectus et netus et malesuada fames ac turpis egestas. Sed facilisis viverra libero. Nam turpis dolor, venenatis sed urna at, bibendum varius turpis.
Our Leadership
Endeavor's Senior Management Team has over 200 years of combined experience, having developed over 18 GW of power and natural gas-related infrastructure projects globally; the team has collectively been involved in over $40 billion worth of projects over their careers.